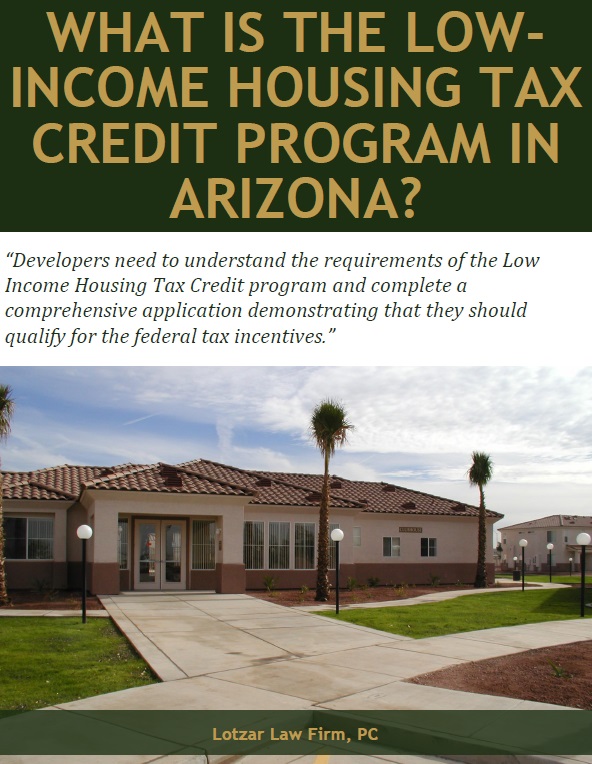 The Low-Income Housing Tax credit program is a federal tax credit program that was created by the Tax Reform Act of 1986. Details about the Low-Income Housing Tax Credit Program (LIHTC) can be found in the Internal Revenue Code (IRC), Section 42.
Although the program exists on the federal level, the individual states have authority to make determinations about which developers will become eligible to receive these important tax incentives. Pursuant to the IRC, a qualified allocation plan is prepared annually. In the state of Arizona, the Arizona Department of Housing prepares this plan, which is approved by the governor.
Developers who qualify for the LIHTC can receive significant tax benefits when developing qualified housing projects. Developers need to understand the requirements and complete a comprehensive application demonstrating that they should qualify for the federal tax incentives.
Click here to read the whole report or download the PDF.
With more than 25 years of legal experience, Chuck Lotzar knows how to solve problems and make deals happen. He earned his Bachelor of Arts in Business from Michigan State University in 1982, and his Juris Doctorate from the University of Detroit School of Law in 1985. Mr. Lotzar has extensive experience dealing with public contracts and issues related to public officials and has been involved in bond financings with an aggregate value in excess of $5 billion.
Latest posts by Charles Lotzar (see all)